Backup and restore files extensively in just a few clicks!
If you've ever stared at a black screen because your Windows refused to boot, you'll appreciate the value of regular backups. And it can be so easy! Only backups will protect you against impending data loss, as caused by ransomware, corrupt operating system or disks. Ashampoo Backup 2020 is the fool-proof backup software to save your files. The program backs up and restores entire partitions and disks in just a few clicks. Benefit from automated backups and fuss-free file recovery through the built-in rescue system!
Highlights
complete backups in just a few clicks
restore even corrupt or infected systems with ease
no more data loss with always up-to-date backups
Homepage: https://www.ashampoo.com/en/usd/pin/1459/security-software/backup-2020
Download: ashampoo_backup_2020_31861.exe
Ashampoo Music Studio 2020 is a tried and tested music program for Windows to edit and burn audio files. Audio disc ripping happens quickly and missing track information is filled in automatically based on an extensive online database. Files can be burned or converted into different audio formats.
The integrated audio editor enables users to modify or remove individual passages and allows them to split up tracks into individual parts. Organizing music and sound collections is another strength of Ashampoo Music Studio 2019. Metadata can be modified, volumes altered and files renamed based on customizable naming schemes. Sounds can be easily mixed with fading and audio tracks extracted from existing videos, e.g. to create ring tones. The built-in cover editor makes it easy to design covers and inlays using multiple integrated templates from simple designs to mosaic layouts. The user interface is logical and optimized for performance, requiring only a few clicks from start to finish and no previous knowledge.
– Versatile cover editor with multiple templates
– Audio file recording
– Burn audio CDs
– Rip audio CDs
– Convert audio files into various formats
– Edit and auto-complete metadata
– Edit and normalize sound files
– Mix tracks with fading
– Extract audio from videos
– Versatile cover editor with multiple templates
Homepage: https://www.ashampoo.com/en/usd/pin/1230/multimedia-software/Ashampoo-Music-Studio-7
Download: ashampoo_music_studio_2020_31792.exe
Ashampoo Photo Optimizer 2020 is the easiest photo editor you've ever seen. Auto-optimization is at the center of this editor and enables users to enhance images at the click of a button with no manual intervention required. A split view serves as a before-after view once the image has been thoroughly analyzed for defects. Dull colors, poor lighting or off color temperature – Photo Optimizer's algorithm detects all blemishes. In this latest version, optimization has been augmented with support for white balance and contrast spread for even better results. With the help of 5,000 customers, these tools have been fine-tuned to the needs of ambitious photographers. Further image processing can be achieved through indispensable features like rotating / mirroring, cropping and, naturally, resizing of images. Ashampoo Photo Optimizer 2020 is designed for fast and effective photo editing and doesn't require any photographic knowledge.
– One-click image optimization
– Rotate and mirror images
– Cropping
Homepage: https://www.ashampoo.com/en/usd/pin/1557/multimedia-software/Ashampoo-Photo-Optimizer-2019
Download: ashampoo_photo_optimizer_2020_31733.exe
Deleted photos by mistake? Your memory card has become defective?
Photos hold an irreplaceable, immaterial value. Whether it's wedding, vacation, holiday or childhood images, they remind us of the most memorable moments in our lives. If they are lost, either by accident or due to technical failure, the damage will be considerable. That's when you'll be glad you have Ashampoo Photo Recovery at your disposal, the photo recovery specialist!
Homepage: https://www.ashampoo.com/en/usd/pin/0173/tools-and-utilities/ashampoo-photo-recovery
Giveaway: https://www.ashampoo.com/frontend/registration/php/trial_step1.php?edition_id=ijvic4mlrgmnmeeukiwrwg4covhlwo9a&ref=linktarget&session_langid=2
Download: ashampoo_photo_recovery_28121.exe – mirror
Until now, enjoying true surround sound on your PC carried a hefty price tag, not to mention the space requirements for a surround system. Ashampoo Soundstage Pro gives you professional-quality surround sound and all you need is a PC and a pair of regular headphones. The program processes your audio signals based on what they would sound like on a real-world surround system and transforms them into binaural sound that is then sent to your headphones. Sound formats like 5.1, 6.1 and 7.1 are fully supported and the program comes with ten different sound locations, created by professional sound artists and based on various high-end recording studios around the world. You have to hear it to believe it! Since tastes, and headphone models, differ, the program allows fine-tuning of several parameters, including frequency response curves for your headphones to help you make the most of your audio experience. Naturally, there are also settings tailored to gamers, that favor low latency and response times. You'll hear precisely where your opponents are! Though the overall quality of the surround effect depends on the surround information embedded in your audio, even stereo signals will sound markedly better and clearer when enhanced with the program.
– Ten locations for different audio experiences
– Built-in volume boost
– Grammy-nominated surround sound process!
– Headphone surround for everyone!
– Audio formats: Stereo, 5.1, 6.1, 7.1
– Level display for individual speakers
Homepage: https://www.ashampoo.com/en/usd/pin/0091/multimedia-software/Ashampoo-Soundstage-Pro
Giveaway: https://www.ashampoo.com/frontend/registration/php/trial_step1.php?edition_id=a6s6woiv3a4m5bbaubvojonznlrr5tb6
Download: Ashampoo_Soundstage_2020-1.0.1.exe
---
Download: ashampoo_soundstage_2020_31687.exe new
Download: ashampoo_soundstage_2020_31005.exe
Download: ashampoo_soundstage_2020_31122.exe
Ashampoo Snap 10 captures anything you see on your screen as screenshots or videos. Multiple postprocessing features help you augment your screenshots with graphics, texts and effects to illustrate your point with a single image instead of long text descriptions. Whether you record videos, create your own tutorials or simply seek to share what you see with others, Ashampoo Snap 10's versatile tools have got you covered.
Homepage: https://www.ashampoo.com/en/usd/pin/2024/multimedia-software/Ashampoo-Snap-10
Giveaway: https://www.ashampoo.com/frontend/registration/php/trial_step1.php?edition_id=oyvieqdvtrpmch64b4s2spzayqkloe88&ref=linktarget
Giveaway: https://www.ashampoo.com/frontend/registration/php/trial_step1.php?edition_id=d0upo2puc5vsjslzuqlv9283tbylt4ty&ref=linktarget
Serial Key: SN10AD-77532D-00F71F
Download: AshampooSnap-10.1.0.0-gotd.zip
Download: ashampoo_snap_10_31075.exe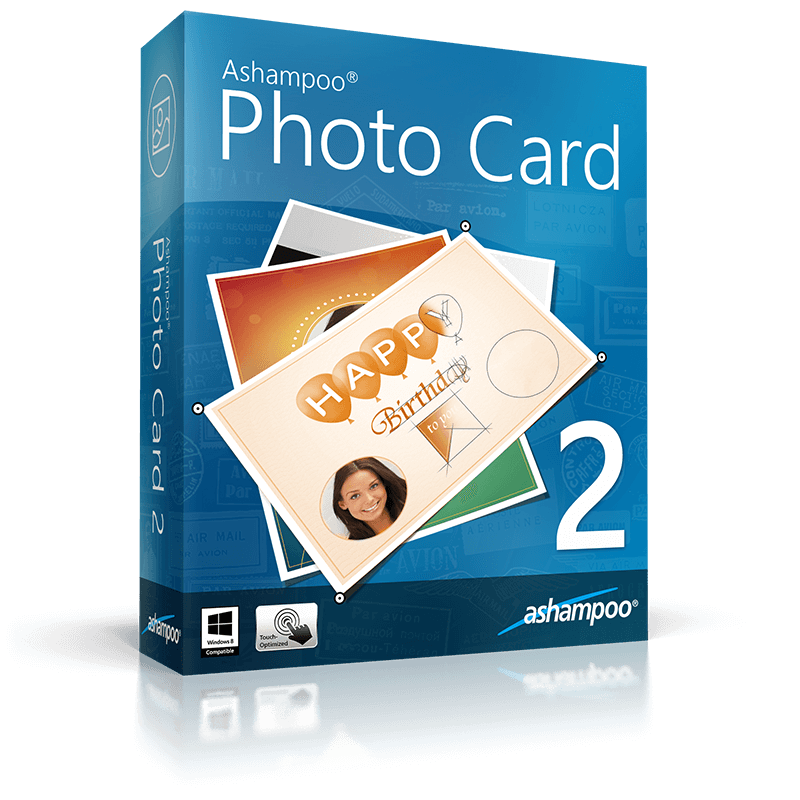 Ashampoo Photo Card is an intuitive and straightforward solution to turn your photos into stunning greeting cards with borders and texts in a few clicks. Show and send your own custom-made greeting cards to semeone you care. With Ashampoo Photo Card, turning photos into greeting cards becomes simple and click operation: select photo or take webcam snapshot, select theme, edit text, send card.
Download: ashampoo_photo_card_2_27112.exe
Download: ashampoo_photo_card_2_22353.exe
Photo cards are a simple yet perfect way to say "I care". Ashampoo Photo Card 2 allows you to design your very own greetings cards on your PC.
The process is straightforward. Select photo or take a webcam snapshot, choose a template, edit text, send. It's the quickest way possible. The program comes with various templates for all occasions from birthdays and house parties to Christmas. Even gift coupons are possible.
Minor image adjustments pose no problem with Ashampoo Photo Card 2. Users can adjust brightness, contrast and color settings manually or rely on the 1-click image optimization. The latest version can also adjust the perspective, e.g. to correct misalignment during the capturing phase.
Any good card needs a good message. Apart from text editing and styling, Ashampoo Photo Card 2 also gives you access to an extensive clipart library.
Once complete, your cards can be shared right from within the application either through email or by uploading them to Ashampoo's own web portal that hosts your cards for 30 days or Facebook and Picasa.
All in all, Ashampoo Photo Card 2 is an easy to use yet surprisingly versatile piece of software, that makes the creation and sharing of elegant greeting cards effortless and fun.
– Webcam support
– Various thematically grouped templates
– Mirror photos horizontally and vertically
– Adjust opacity, size, bright, contrast and color saturation
– Add and edit texts and cliparts
– Upload to Ashampoo Web, Facebook and Picasa or send as email
Operating System:
Windows 10, Windows 8 / 8.1, Windows 7
Languages: Arabic, Belorussian, Bulgarian, Catalan, Chinese (simplified), Chinese (traditional), Croatian, Czech, Danish, Dutch, English, Finnish, French, German, Greek, Hebrew, Hungarian, Italian, Norwegian Nynorsk, Polish, Portuguese, Portuguese (Brazilian), Rumanian, Russian, Serbian, Serbian, Slovakian, Slovenian, Spanish, Spanish (Argentina), Swedish, Turkish, Ukrainian, Vietnamese
Ashampoo WinOptimizer 17 is the proven system optimization suite for Microsoft Windows PCs. The start page alone offers multiple ways to optimize, tune and clean your operating system from junk files. The various cleaners that eliminate web browsing traces, temporary files, uninstallation leftovers and junk files are among its most popular features and help free and reclaim massive amounts of disk space. Modules like AntiSpy and Privacy Control safeguard user privacy and prevent unwanted sending of telemetry information to let users decide what information is shared and synchronized. Three intelligent auto-features keep systems clean, speed up program launches and enhance gaming performance. Furthermore, the Windows Registry is cleaned, autostart entries optimized and invalid shortcuts deleted to improve overall system stability and performance. Multiple system analysis tools provide a detailed look at installed hard and software components and the tweaking module comes with multiple Windows customization options. Browser Extension Manager handles browser extensions of all common browsers across user accounts and provides a quick way to uninstall unwanted addons. New features include Task Scheduler to run cleaning and maintenance modules automatically in the background and ADS Scanner to find and delete hidden data streams. In addition, all cleaner modules have been updated and the new user interface now supports two new skins.
– Accelerate and slim down your system
– Reclaim disk space efficiently
– Maintain hard disk and system health
– Handy task scheduler for maintenance and optimization
– Powerful browser extension management
– ADS Scanner for hidden data streams
Homepage: https://www.ashampoo.com/en/usd/pin/5606/system-software/Ashampoo-WinOptimizer-17
Download: Ashampoo_WinOptimizer_2020.17.00.25.exe
Ashampoo UnInstaller 9 makes installing, testing and fully uninstalling software a breeze. Four dedicated deletion methods provide a cleaner system that Windows-default uninstallation facilities. Even software sideloaded through nested setups poses no problem. Ashampoo UnInstaller 9 takes the fear out of SPAM software or spyware, whether full-fledged application or browser plugin. The program follows a four-way strategy with full installation logging as method of choice. This way, all system modifications, including files and Registry keys, are tracked and fully reversible. Installations not logged by the program are still easily removable, thanks to Deep Cleaning technology and dedicated application profiles. Based on the built-in snapshot feature, users can create compare different system states and visualize their differences. The program also supports batch-uninstalling to remove multiple applications in one go, with a heavy focus on user privacy by optionally shredding no longer needed files that contain sensitive information. Aside from software removal, UnInstaller also includes multiple system maintenance and cleaning tools. In addition, version 9 features drag & drop uninstalls as well as an intuitive snapshot wizard. The built-in installation guard has been reworked for better stability and both program removal and system cleaning routines have seen efficiency improvements. Even uninstall routines that require a system reboot are now fully supported by the post-uninstall Deep Cleaning technology. Furthermore, more detailed usage statistics and custom filters provide additional visual clarity. Once again, all tools have also been updated for maximum compatibility with Windows and third-party applications.
– Four deletion methods for perfectly clean uninstalls
– Remove hidden and nested installations
– Shred sensitive files prior to removal
– Fast drag & drop uninstalls through program icon
Homepage: https://www.ashampoo.com/en/usd/pin/2103/system-software/Ashampoo-UnInstaller-9
Giveaway: https://www.ashampoo.com/frontend/registration/php/trial_step1.php?edition_id=7apnipyasgyyq1p4o4betly5wnsogrme
Download: ashampoo_uninstaller_9_31355.exe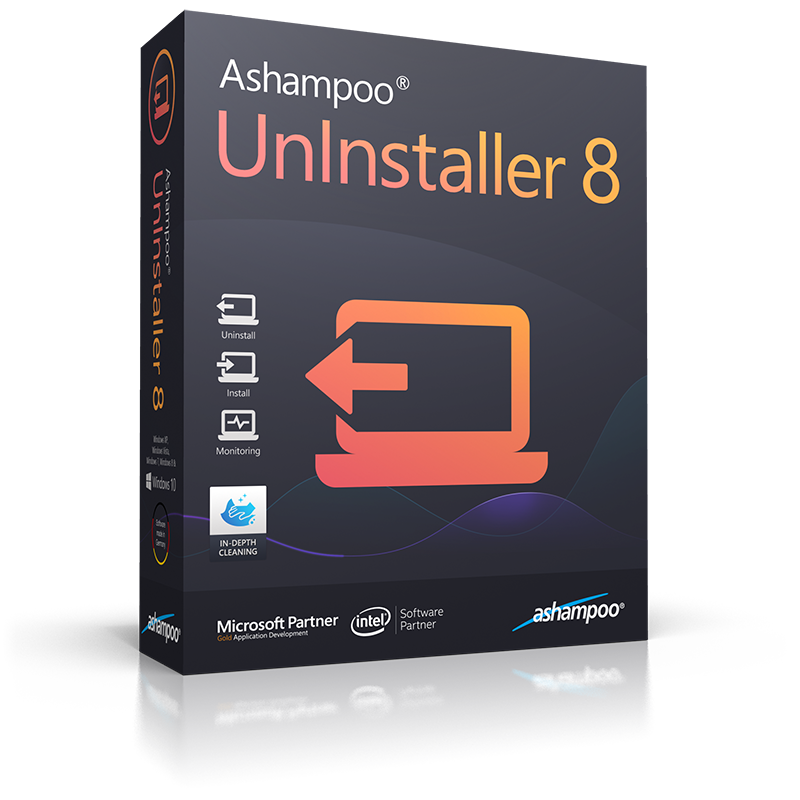 Ashampoo UnInstaller 8 does a better and more thorough job of removing software than Windows ever could. By logging each system modification during installations, the program ensures that, when you decide to remove an application, each and every file and Registry change are eliminated so no space-consuming leftovers remain. Ashampoo UnInstaller 8 features Deep Cleaning technology that scans your system for residuals and is especially useful for installations that haven't been logged by the program. In tandem with the new profile database for popular applications, any program can now be removed without leftovers. And files that include personal information can now be wiped in the process for better privacy protection. This also includes nested setups, hidden browser add-ons or any other unsolicited programs. Programs can be uninstalled one by one or in batches. The built-in snapshot feature makes it incredibly easy to compare different system states and find out exactly what modifications were made during an installation, but also during program use. For faster uninstalls, users can now drag application shortcuts onto the UnInstaller 8 program icon to instantly trigger their removal or use the improved tray menu. The program now also features a history view of all recently uninstalled applications. In addition, Ashampoo UnInstaller 8 features multiple system maintenance and cleaning tools. All modules, including cleaners, have been updated and support for Opera added.
Operating System:Windows 10, Windows 8, Windows 7
Giveaway: https://www.ashampoo.com/frontend/registration/php/trial_step1.php?edition_id=zwvtoqhneeq22j5tdkvpzeknm2ww5gdw&ref=linktarget
Giveaway: https://www.ashampoo.com/frontend/registration/php/trial_step1.php?edition_id=jdmtfyodb9reyblp77kfltamodbjsip6
Download: ashampoo_uninstaller_8_8.00.12_sm.exe